You are a PowerBuilder developer and you are fed up with your old-style interfaces.

Your applications look like Windows 95 programs and GUI is not the Sybase priority.

Why not try the Flx Suite ?

Flx Suite is a set of self contained components that provides an Office 2003 / XP look. All components are 100% written in PowerBuilder and are delivered with their full documented source code.

All components are compatible from PB8 to PB11.

With the Flx Suite, you can easily build user interfaces that look like the following samples.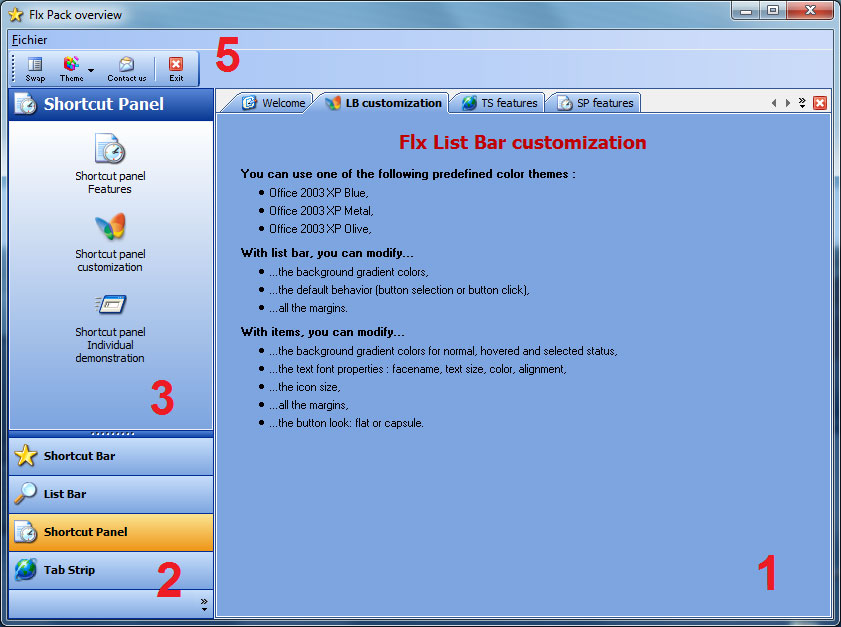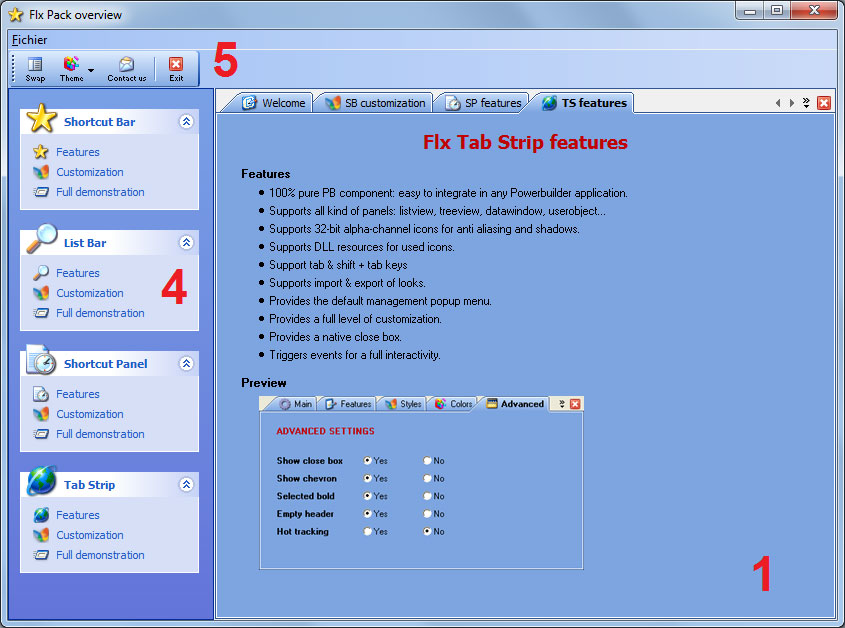 1 - Flx Tabstrip

The Flx Tabstrip is used to replace a standard Tab Control. Some features :

• 32-bits alpha channel icons are supported.
• Icons can be load from a DLL.
• Navigation keys (TAB & SHIFT+TAB) are supported.
• Each tabpage can be lock / unlock.
• A chevron allows to access any tabpages directly.
• An optional close box allows a MDI-tabbed behaviour.
• …
2 - Flx Shortcut bar

The Flx Shortcut Bar is a Outlook 2003 navigation shortcut bar. Some features :

• 32-bits alpha channel icons are supported
• Icons can be load from a DLL
• Textures are supported
• An optional close box allows to hide the bar
• …
3 - Flx List bar

The Flx List Bar is buttons bar that can be used as a navigation bar or as a toolbar. Some features :

• 32-bits alpha channel icons are supported
• Icons can be load from a DLL
• Flat look and capsule look are provided
• The mouse wheel is supported
• …
4 - Flx Shortcut Panel

The Flx Shortcut Panel is a task panel like the one that can be found in Windows XP. Some features :

• 32-bits alpha channel icons are supported
• Icons can be load from a DLL
• Several kinds of items are provided: hyperlink, text, line, choice, colour, object.
• The mouse wheel is supported.
• …
5 - Flx Toolbar

The Flx Toolbar is a Office 2003 style toolbar.

Some features :

• 32-bits alpha channel icons are supported
• Icons can be load from a DLL
• Toolbars can be built directly from an existing PB menu
• …
Downloads

To see the power of the Flx Suite, you can download a full
overview sample (in PB 10.5) at the following links :

• FlxSuite Demo 10.5 (if you have PB10.5 runtimes)

• FlxSuite Demo 10.5 and Runtimes (if you do not have PB10.5 runtimes)

For more information, contact us at :